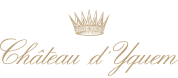 Back to the vintages
---
Château D'Yquem
2012
The unusually erratic weather conditions obviously had an influence on the vines, and flowering was long and drawn out due to the rain.
The dry, warm weather in August nevertheless evened out ripening.

The harvest of grapes for Y began on the 5th, 6th, and 7th of September under a magnificent clear blue sky. We picked the more early-maturing Sauvignon Blanc at the height of their aromatic potential, when the thermometer stood at 30 °C.
After some rain on the 10th of September, we started picking superb Sémillon grapes from Yquem's best clay slope plots on the 12th and 13th. The humidity in the soil had enabled the grapes to reach optimum ripeness without botrytisation, which is essential for this wine.
Y was the one and only wine produced by Château d'Yquem in 2012.
Print